from zazzlemedia.co.uk
Trends are well-known changes that happen in all creative fields, and web design is no different. Born of experimentation and innovation, trends are the driving factors for change, which (for the most part) push an industry forward for the better.
The web is a unique environment which is constantly changing and evolving, and with that in mind, we run down what we believe are 10 of the most important trends to be looking towards over the next 12 months.
More brands adopt a mobile-first approach
As the name suggests, mobile-first design is the process of designing for mobile (or smallest screened devices) first, then working up to the bigger ones.
The mobile-first approach to design isn't new to 2016 and has been around for a few years now, but with mobile-phones now officially named as the primary devices used for browsing the web, especially here in the UK, more companies are realising the importance of having a site that effectively delivers content on a smaller screen, and are rushing to get onboard.

Content is designed to fit on mobile and smaller screened devices first, then you work up towards the larger-screened devices.
Design and visuals aside, the mobile-first model and the restrictions it brings is a useful way for brands to really consider what their core content and message is that they want to communicate.
Smartphones (for the most part) come with significantly smaller screens than tablets and desktops, which limit the amount of content a user can easily view at once. This forces brands to do-away with any information or content which isn't 100% necessary, allowing them to add it in, along with the additional visual bells and whistles for users as they switch up to larger screened devices.
Our prediction: Mobile-first isn't a concept new for 2016, but we anticipate seeing more sites over the coming year which take a more thoughtful approach in delivering their content to smaller screens, rather mobile design being a tacked-off after-thought to the desktop build.
Wider implementation of responsive design
We know what you're thinking – first mobile first, and now responsive design? Neither of these are new for 2016!
Although responsive design is also something which has been around for a few years, what we predict to see over the coming year is an even bigger uptake in the number of brands, both big and small, who are building responsive-based sites.
For those who may not know what responsive design is, it's essentially an approach to building a site using CSS media queries and flexible grids/layouts to create a single, dynamic site which adjusts and re-jigs it's content to best display itself on various sized devices. It works hand-in-hand with mobile first, as mobile first designs the experience and the look, and responsive implements it.
One of the bonuses of responsive design is that it allows businesses to pay for just a single site build which effectively delivers content on mobile and tablet, all the way to laptops to big-screened desktops.
Cost-effectiveness aside, the reason we anticipate even more brand's employing this is because of an update to Google's ranking algorithm which dropped in April last year. To sum it up, Google's update now boosts the rankings of sites which optimises it's content (and thus user experience, a la the mobile first principle) to mobile devices and users. Any site which isn't optimised for mobile is set to see a major shake up in where it ranks online. See more from Google here.
If you're looking to see whether your site is 'mobile-friendly' under Google's update, be sure to test it with this handy tool.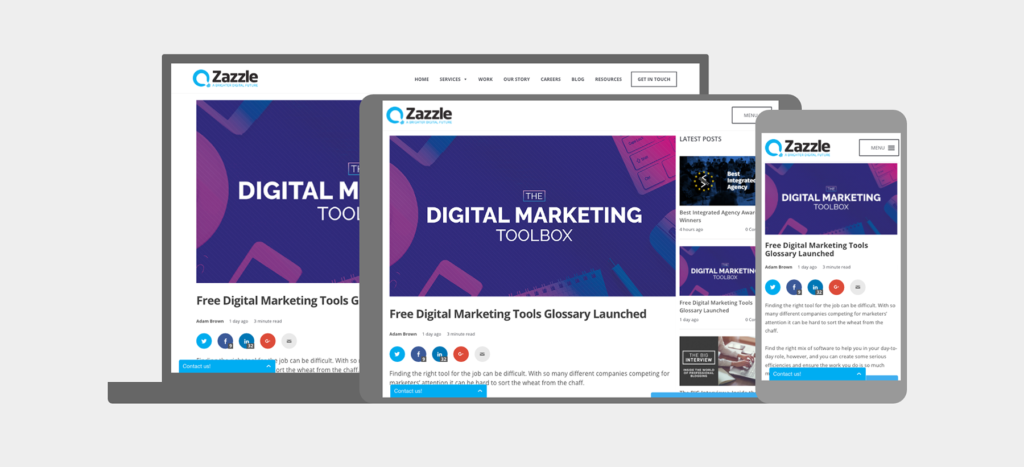 The above example, taken from our very own blog, shows how with a responsive build, content is able to re-jig itself automatically to best display itself on different devices. You can check to see how your own site looks on various devices with Google's handy Resizer tool, found here.
Rankings aside, what's also interesting to note is how user behaviour has changed over the last couple of years. Internet users have quickly taken to mobile-optimised sites which make their browsing experience easier, and any site which now doesn't meet these standards simply won't cut it. As this infographic from Experience Dynamics shows, 79% of users will leave the site they're browsing and find another if it isn't optimised – something for brands to really consider!
If you're interested in quickly building a reliable, responsive site, we recommend checking out the Foundation 6 framework from Zurb which can be found here. It's an all-encompassing toolkit of pre-built HTML, CSS, and JavaScript patterns which will help get you and your developers on the right path to a mobile-friendly site in no time.
Our prediction: Much the same as with mobile first – we predict a larger increase in the number of brands and businesses who implement this approach to ensure that they achieve the rankings in search that they desire, as well as keep those all-important customers happy with the user experience.
Widespread utilization of rapid prototyping tools
Although not a design trend per se, rapid prototyping tools are definitely one of the most useful breakthroughs to hit the web-design world over the last year or so and are a must-have tool for any web, UI and UX designer.
Rapid prototyping tools from services such as, UXpin, Webflow, InVision and Marvel (amongst many others) all allow designers to quickly create working low and high fidelity prototypes of sites and services to gauge their usability and aesthetic, all without writing a single line of code. Many also allow you to design in the browser and then actually launch the site itself right from the tool.
Their ease-of-use and functionality gives an instant like-for-like experience of how the finished product would look and work in the browser, saving precious hours, resources and would-be setbacks.
What's also beneficial in their application is what comes from the client side. Gone are the days of showing client static wire-frames and mockups, explaining in great detail every subtle animation and transition. Your clients get to see exactly how it works and looks, without any long, complicated conversations about user experience or transition speeds.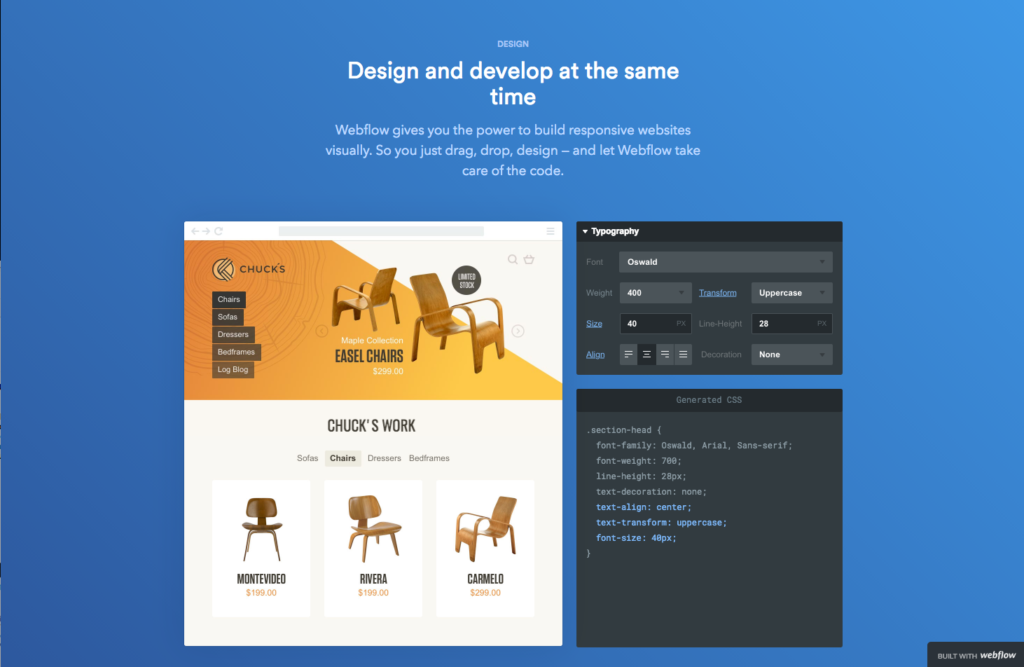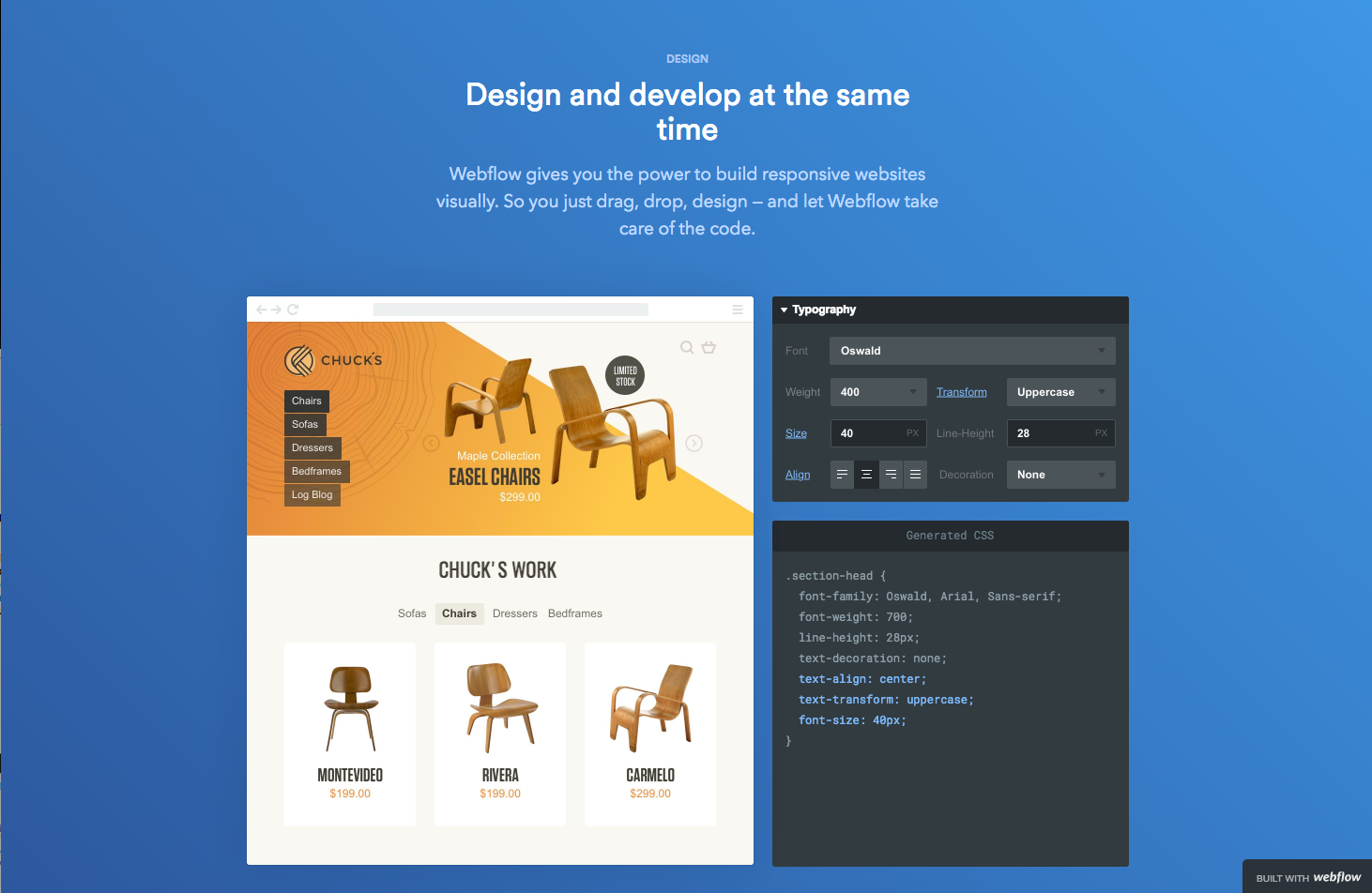 The screenshot above from Webflow gives an example of what can quickly be designed within the browser, as well as the code it generates for developers to be able to use and implement right away.
Our prediction: There are so many tools available today, it's testament to how successful they are and how many businesses have already adopted them. We anticipate even more brands and designers jumping on the band-wagon in pursuit of streamlined workflows and increased efficiency.
UI Patterns and Framework
The mobile-first and responsive approach to web design, as well as the increasing popularity of WordPress and pre-designed themes, has had a somewhat noticeable impact how many desktop sites work and look today.
What we're starting to see more and more are both UI and UX patterns emerge across the web where many sites look and function in very similar ways as they learn from one another to hone their user's experience.
We won't delve into the argument that all sites are now beginning to look too 'samey', but instead look at how these consistent UI and UX patterns are leading the web to become a more consistently user-friendly place to be.
With so much online competition today for brands across all sectors, they can't afford to take major risks in their user's journey, and if these tried-and-tested patterns and principles work, it makes sense to use them (where appropriate!) to enhance their site.
A great resource for looking at existing patterns for various goals can be found over at UI-Patterns.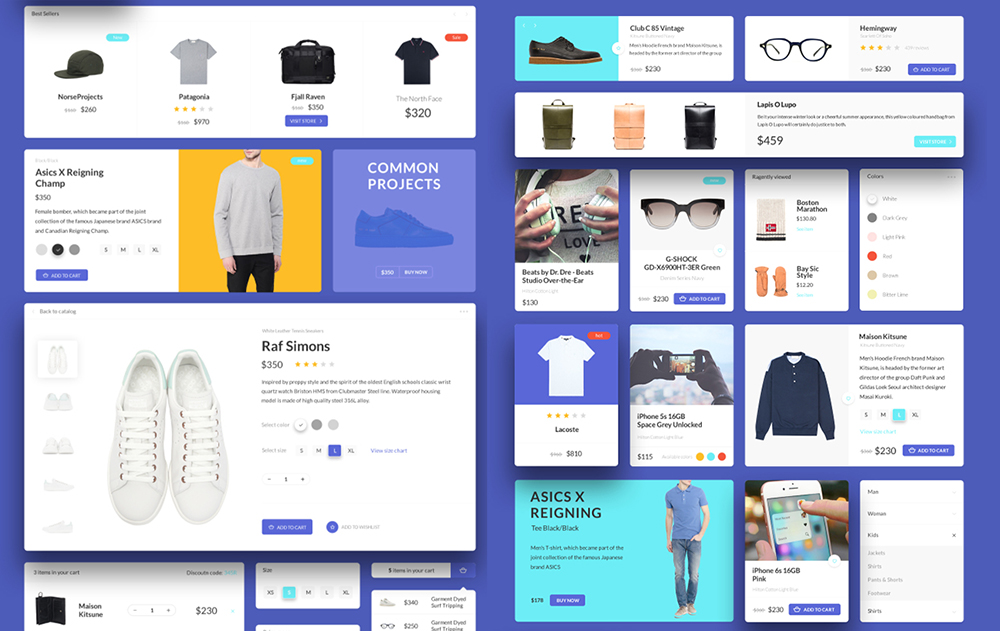 There are many great UI kits available today which adopt best practises, such as the above from UI8.net. These kits, which are easily styled and manipulated, give you tried and tested design functionality straight out of the box. Image credit: https://ui8.net/products/patagonia-ui
A high profile example of this came with Google's 2014 launch of their Material Design Language – a set of design principles and guides which they developed to create a more consistent user experience.
They summarise the goal of Material Design to 'develop a single underlying system that allows for a unified experience across platforms and device sizes. Mobile precepts are fundamental, but touch, voice, mouse, and keyboard are all ?rst-class input methods.'
Google have implemented many of these principles within their own apps, and many other brands are adopting them for their own sites in order to enhance the experience for their users.
Our prediction: As these existing UI and UX patterns evolve and develop, we'll see more and more brand's implementing them as we move one step closer to a more unified, and consistent online browsing experience.
Keeping users happy with a streamlined UX is the top priority now as brand's do away with design gimmicks in order to compete in an ever-increasingly more competitive market.